April 2013 Alumni Luncheon - Washington, DC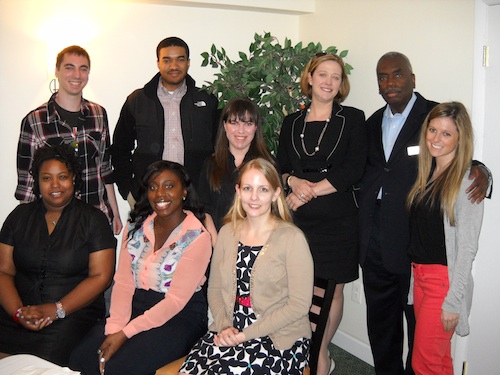 Held at The Original Tortilla Coast restaurant in downtown Washington, DC, the April 14 alumni luncheon welcomed numerous graduates working in the DC region, as well as students participating in the Washington, DC externship program, faculty and prospective students. At right Dean Johnson, top right, is pictured with Elon Law alumni, clockwise from top left, Daniel Nicotera L'11, David Morrow '07 L'10, Samantha Gilman L'11, Erin O'Connell L'09, Julie Goldfarb L'11, Nicole Patterson L'10, Hasina Lewis L'12 and Lucrecia Johnson L'11.
---
March 2013 Reunion Weekend - Greensboro, NC
The law school's reunion weekend took place March 1 to 3 and featured a free Continuing Legal Education (CLE) class, 5k race, golf tournament and several afternoon and evening receptions. View a slideshow of Elon Law Reunion Weekend 2013.
---
February 2013 Reception - Charlotte, NC
An Evening with Elon Law was a success in Charlotte! We had around 35 attendees which included Dean Johnson, Dean Leggett, Dean Smith, and Professors Flynn and Kantlehner.
The event was hosted at Dressler's Restaurant in midtown where alums enjoyed meeting the newest class of 2012 and reconnecting with former classmates and colleagues. Dean Johnson presented a very engaging and informative update on the happenings at Elon Law and just like the nature of a law student, there were questions that followed! President of the Alumni Association, Jason Aycoth '09, attended the Charlotte event, traveling from Greensboro and he gave us an update on the upcoming Reunion Weekend events.
Overall, it was a wonderful time for people to connect and reconnect with others. We plan to continue to network and grow our base of Elon Law Alumni. Special thanks to Elon for providing such a wonderful evening to us.
Report submitted by Sarah Robinson Lucente L'09
---
January 2013 Reception - Raleigh, NC
The Elon Law Alumni Association was thrilled to host an event at Relish Cafe in Raleigh, NC.
With over 30 local alumni in attendance, in addition to several faculty members, Deans, and Board members, the night was filled with networking, laughter and fun.
Special thanks to Dean Johnson and Jason Aycoth for updating those in attendance on the current happenings at the law school.
Pictured at right, above, Nathan Standley L'11, Diane Garrett and Edward Garrett L'10. Pictured at right, Jennifer Edwards Hoverstad L'11 and Christopher Beal L'11.
Report submitted by Leslie Lasher '06, L'09
---
February 2012 Mixer - Greensboro, NC
On Saturday, February 18, 2012 alumni, faculty and staff enjoyed an evening at Center Pointe in downtown Greensboro. The evening consisted of catching up with friends and included a law school update from Associate Dean for Academic Affairs Catherin Dunham, who highlighted the school's progress over its first five years and noted new programs being established at the law school, including the new Washington, D.C. externship program. Entertainment was provided by Professor Eric Fink. He brought his guitar and wowed the crowd!
View a slideshow from the event.
---
March 2012 Mixer - Charlotte, NC
On Wednesday, March 28, 2012, alumni, faculty, staff and friends of Elon Law gathered at Dressler's Restaurant at the Metropolitan in Charlotte, NC.
View a slideshow from the event.
---
Upcoming Events
Details about upcoming events are available in the Alumni Events section of the Alumni homepage.