Alamance 207
Alamance 207 was redesigned and renovated during Winter Term 2016 to serve as a prototype learning space. The classroom design supports 360-degree learning, allowing students and faculty to collaborate in a number of different ways. The classroom's key characteristic is its flexibility:
four wireless connection data projectors allow for faculty and students to connect multiple devices
the furniture can be quickly rearranged into multiple seating arrangements to support a variety of collaborative and active learning pedagogical strategies
numerous writing surfaces to support Elon's focus on writing
portable power towers allow students and faculty to plug in around the room to support bring your own device (BYOD) initiatives
a moveable instructors station allows faculty to easily relocate around the classroom
A variety of courses have been taught in this space already, including The Global Experience (COR 110), Intermediate French (FRE 221), Strategic Research Methods (COM 362), Grammar (ENG 205), Public Speaking (IDS 115), Calculus II (MTH 251), Collaborative Conflict Resolution Skills (PCS 122), and Special Topics in Behavioral Neuroscience (PSY 353). The faculty teaching in this space receive support in the technical, logistical, and pedagogical uses of this classroom. Faculty and students who are using the space have been asked to participate in research activities to document their experiences and feedback. The lessons from Alamance 207 will be used to inform future decisions about the design of other campus learning spaces.
This space is the culmination of a collaboration between members of the Learning Spaces Workgroup (LSW), the Office of the Provost, Instructional and Campus Technologies, and Planning, Design, and Construction.
Furniture
Alamance 207 seats 24 students, and it has several types of furniture for the students and the instructor. Students can choose from a variety of seating options based on their preferences, and faculty can engage the students in at least 3 different furniture setups.
Bar height tables and chairs
Rolling desks
Rolling tables and chairs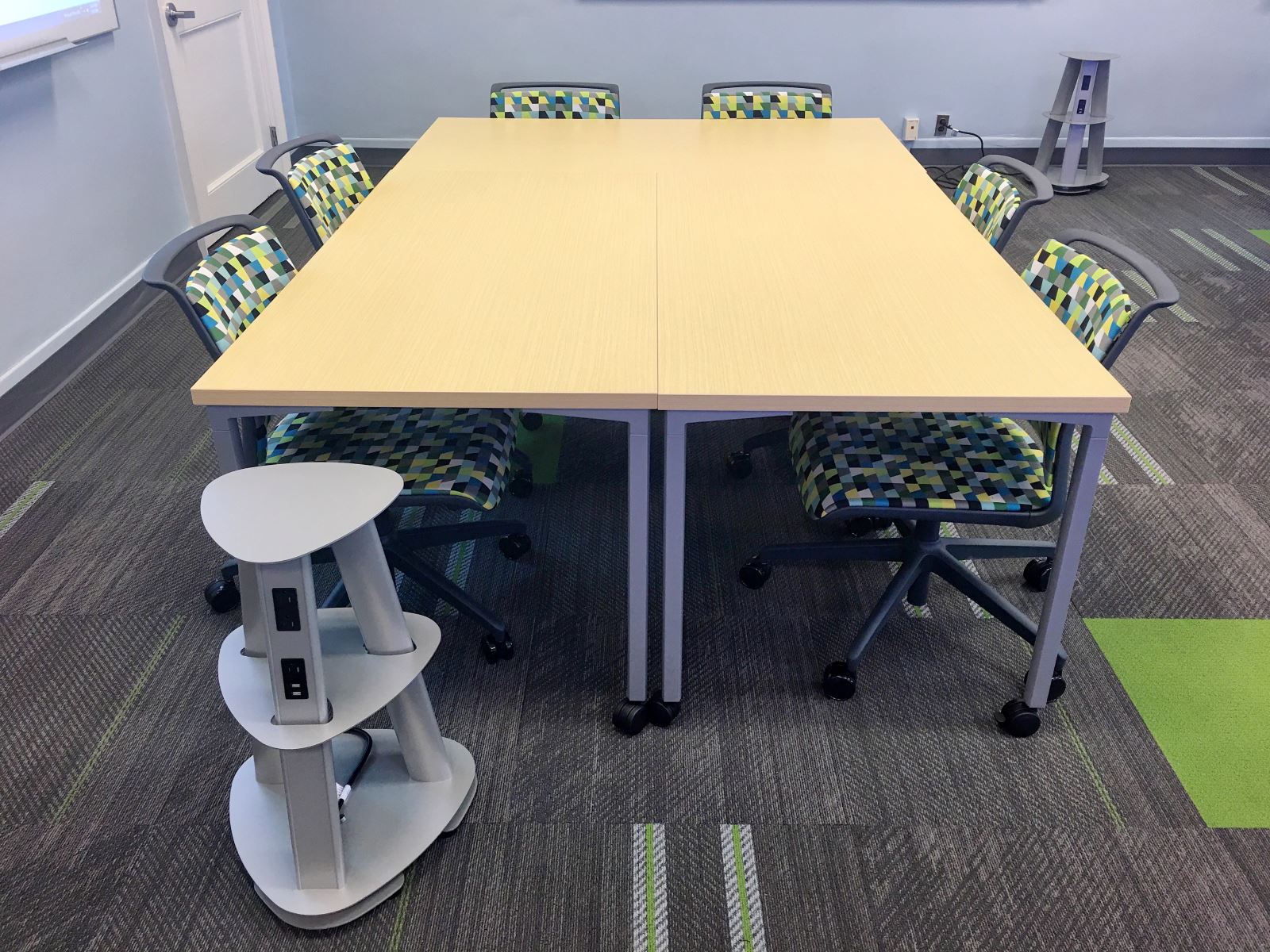 Pie (sectional) tables and chairs
Instructor podium and chair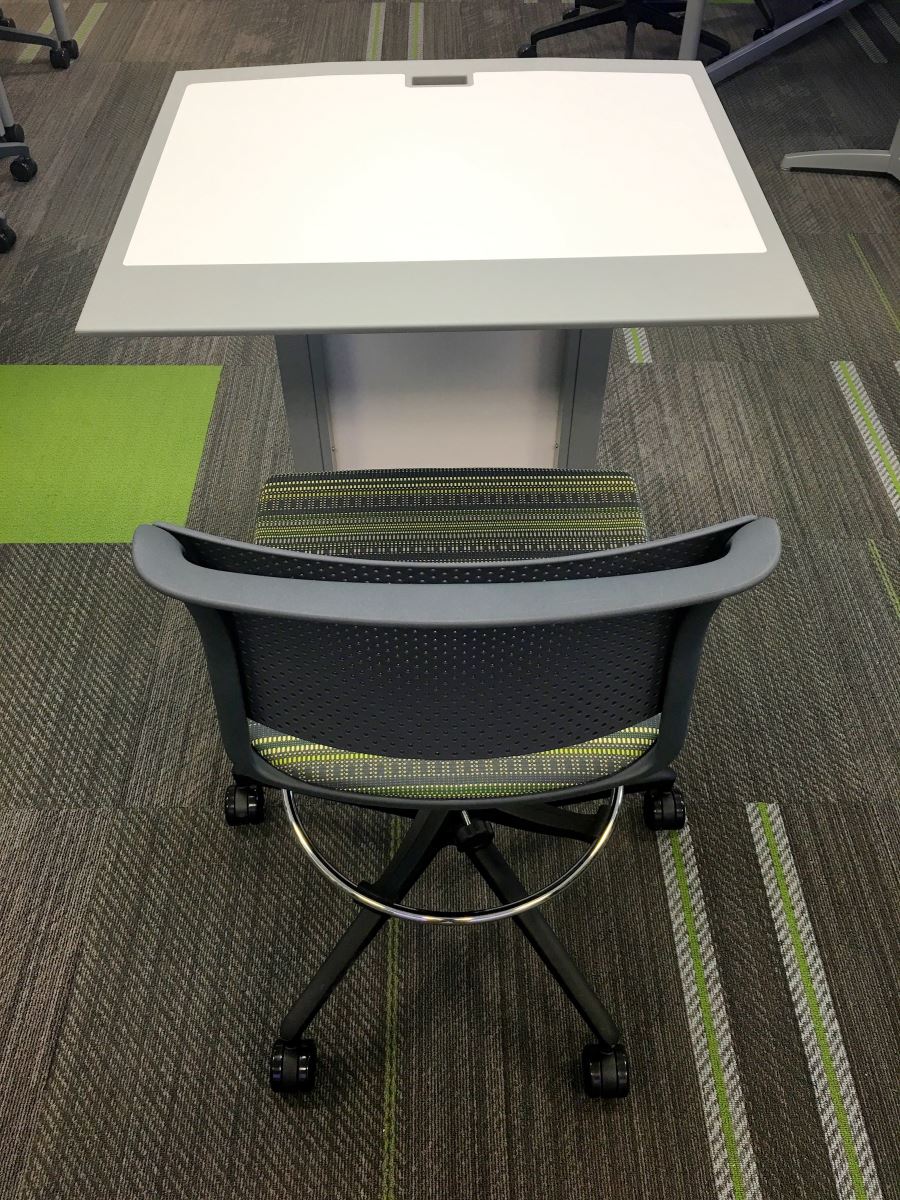 Technology and Writing Surfaces
The classroom technology consists of four short-throw projectors, a Crestron panel to control the projectors and what they display, and a technology station that includes a Windows PC and a BluRay player. Each projector can display AirMedia, a service that allows you and your students to wirelessly share your computer screens. In addition, power is available to each student to support BYOD (Bring Your Own Device). Four Power Towers are scattered throughout the room that have both electrical and USB ports. When the room is setup for 4 different groups, each group has their own Power Tower.
The classroom has multiple dry erase boards to allow for group collaboration. In addition, the short-throw projectors project on these surfaces, allowing students to interact with digital content in new ways.
Projectors at "front" of room with large writing surface


Projector at "rear of room with 2 writing surfaces


Projector at "side" of room with 2 writing surfaces


Power towers (4)


Room Arrangements
The furniture and technology make this an extremely flexible space. It's possible to quickly and easily shift to different layouts based on your pedagogical needs. Faculty using this space have explored, experimented, and evaluated a variety of layouts. The images below highlight several popular layouts.
Group layout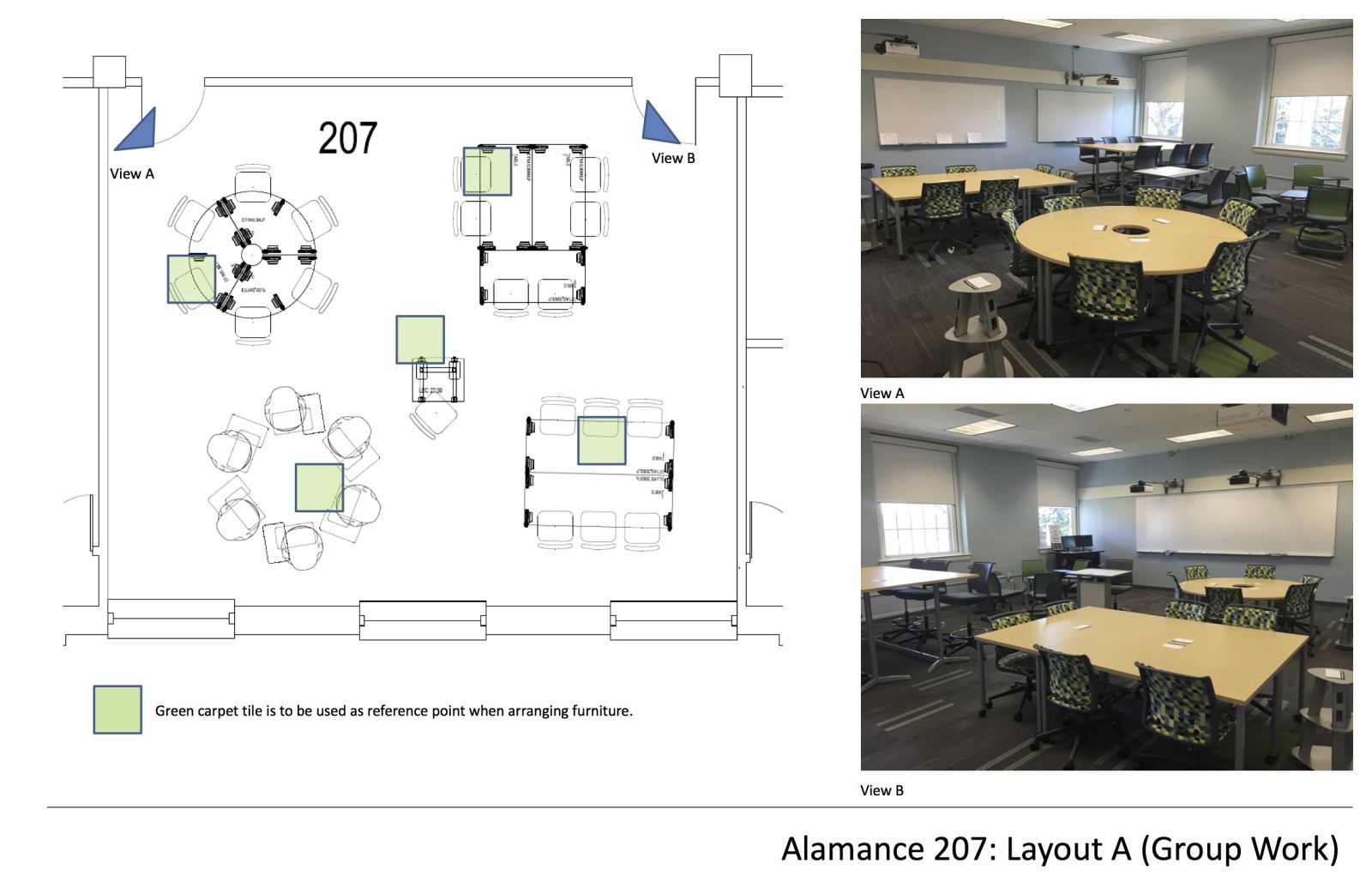 Discussion layout
Presentation layout