About the Site's Builders
Hundreds of people - the faculty, students, staff, advisers and friends of Elon University - have worked together over the years since 2000 to compile this valuable resource site to illuminate people's hopes and fears for the future of the human network. It could not have come together without their exceptional efforts and their willingness to participate in exposing potential future opportunities and threats.
The most important people behind this project: We are especially thankful for the contributions of the thousands of people who have invested their precious time in sharing their views in writting surveys online and/or in video and audio interviews. A great number of these communications technology experts have spent an hour or more annually across a span of many years contributing their insights to our "Future of the Internet" surveys.Their contributions are vital to identifying the key issues to attend to today to plan for the best-possible tomorrow.
Janna Quitney Anderson is professor at Elon University and director the Imagining the Internet Center, based in Elon University's School of Communications. In addition to her leadership of dozens of documentary research expeditions for Imagining the Internet, she has been the lead writer of dozens of major studies for the Pew Internet and Technology Project, including the work leading to generation of all of the research reports on the Imagining the Internet site. She is the author of the book "Imagining the Internet: Personalities, Predictions, Perspectives" (Rowman & Littlefield, August 2005) and the lead author of the "Future of the Internet" book series, published by Cambria Press. Elon University is seeking financial support for the Imagining the Internet Center as it works to illuminate Internet evolution, providing student engagement and youth education in communications policy while also informing policy and futures thinking. Please contact Anderson to learn more about providing support for this important work.
This site was conceived and developed and is edited and maintained by Anderson with some database, video and Web page-design leadership from Dan Anderson, Alex Lindgren, John David Parsons, Chris Spires, Christopher Eyl and Rebecca Bass of Elon University's Office of Communications.
The inspiring force behind the site is Lee Rainie, founding director of the Pew Internet and Technology Project, who generated several of the ideas that were then brought to life by the scholarly community at Elon University. The Pew Internet & American Life Project is one of several projects that make up the Pew Research Center, a nonpartisan, nonprofit "fact tank" that provides information on the issues, attitudes and trends shaping America and the world. The project produces reports exploring the impact of the internet on families, communities, work and home, daily life, education, health care and civic and political life. In addition to Lee, Pew Internet staffers Susannah Fox, Aaron Smith, Maeve Duggan and Jessica Vitak have made contributions to this site.
The Imagining the Internet Fellows: The following communications leaders are senior fellows of the Imagining the Internet Center. Each has taken vital leadership roles on multiple projects over the years.
In addition, administrative, faculty and staff support for the Imagining the Internet Center is being or has been provided by Elon University presidents Leo Lambert and Connie Book, provost Steven House, associate provosts Tim Peeples and Brooke Barnett and School of Communications deans Paul Parsons and Rochelle Ford and faculty and staff Tommy Kopetskie, David Bockino, Jonathan Albright, Anthony Hatcher, Naeemah Clark, Aaron Moger, Harlen Makemson, Rich Landesberg, Vic Costello, Brian Meyer, Catherine Kerns, Alyssa Donohue, Phyllis Phillips, Pam Baker, Brian Walsh, Kenn Gaither, Vanessa Bravo and J McMerty.
Elon alumni contributors Jennifer Guarino, Olivia Hubert-Allen, Jennifer Connolly, Morgan Little, Ashley Barnas, Bethany Swanson, Lianna Catino, Tyler Anderson, Jessica Vitak, Alexa Milan, Carolyn VanBrocklin and Maddy MacKenzie have played roles in work for the center in the years after their graduation from Elon University.
Among the Elon undergraduate students who have provided assistance with one or more Imagining the Internet Center projects are: Erin Barnett, Scott Myrick, Janus Rogerson, Michele Hammerbacher, Anne Nicholson, Dannika Lewis, Eryn Gradwell, Tyler West, Ashley Barnas, Craig Campbell, Alexa Milan, Randy Gyllenhaal, Morgan Little, Josh Chagani, Alex Trice, Eugene Daniel, Drew Smith, Andie Diemer, Lindsay Fendt, Shelley Russell, Tyler Anderson, Kirsten Bennett, Lianna Catino, Rachel Cieri, Ashley Dischinger, Christina Edwards, Shea Northcut, Dan Rickershauser, Katie Roberts, Laura Smith, Ryan Sweeney, Carolyn VanBrocklin, Kassondra Cloos, Jack Dodson, Nick Ochsner, Laura Ward, Sam Bianchetti, Jasmine Spencer, Mallory Lane, Andrew Creech, Corey Groom, Anna Johnson, Melissa Kansky, Camille DeMere, Sam Calvert, Rebecca Smith, Bonnie Efird, Sam Baranowski, Bethany Swanson, Ronda Ataalla, Kellye Coleman, Steven Ebert, Natalie Allison, Jeff Stern, Nicole Chadwick, Jeff Ackermann, Joe Bruno, Jeff Flitter, Elizabeth Kantlehner, Derek Scully, Rachel Southmayd, Katy Steele, Julie Morse, Kristen Case, Addie Haney, Caitlin O'Donnell, Brandon Marshall, Jacquie Adams, Katie Blunt, Mary Kate Brogan, Allison D'Amora, Keeley Franklin, Janae Frazier, Ryan Greene, Audrey Horwitz, Perri Kritz, Madison Margeson, Katie Maraghy, Brennan McGovern, Brian Mezerski, Alex Rose, Shakori Fletcher, Brittany Wenner, Jason Puckett, Mia Watkins, Sky Cowans, Rajat Agarwal, Michelle Alfini, Gary Grumbach, Paige Pauroso, Rhett Lawson, Ashley McGetrick, Leena Dahal, Michael Bodley, Jackie Pascale, Jacob LaPlante, Jordan Lockhart, Iris Sullivan, Ellie Whittington, Bryan Anderson, Elizabeth Bilka, Ashley Bohle, Courtney Campbell, Melissa Douglas, Mackenzie Dunn, Maya Eaglin, Christina Elias, Rachel Ellis, Caroline Hartshorn, Paul LeBlanc, Emmanuel Morgan, Joey Nappa, Diego Pineda Davila, Alyssa Potter, Kailey Tracy, Andrew Steinitz, Kacie Anderson, Anna Zwingelberg, Joyce Choi, Alex Hager, Camille Behnke, Liam Collins, Meagan Gitelman, Deirdre Kronschnabel, Jared Mayerson, Grace Morris, Mariah Posey, Alexandra Roat, Ginna Royalty, Alexandra Schonfeld, Jamie Snover, Erik Webb, Brooke Wivagg, Meg Malone. (An additional listing of 80 pioneering Imagining the Internet undergraduate students follows below the photo at the bottom of this page.)
Elon Interactive Media Master's students making contributions include Maria Rojas, Melissa Spencer, Brook Corwin and Cathy Freeman.
Hundreds of additional students enrolled in the Elon University courses The Future Now and The Future of the Internet have also made direct and indirect contributions to this work, to name a few of the many: Cameron Alderman, Maria Barreto, Katy Bellotte, Arielle Berlinsky, Xena Burwell, Jessie Clodfelter, Liam Fraser, Maritza Gonzalez, Johnathan Jackson, Melanie McHugh, Caroline Miller, Anne Segal, Chelsea Thomas, Allison Andrews, Kayla Branch, Rebekah Brown, Jake Cramer, Grace Eng, Kayla Fedorowitz, Eric Halperin, Kelsey Incrovato, Chelsea Lindsay, Kaitlin Mallinson, Caitlin O'Shea, Hayley Park, Ted Russell, Lori Schachle, Shauna Willetts, Camerson Allsteadt, Kellie Blackburn, Matt Clanton, Lauren Cuddy, Julio Dragonetti, Megan Jurnak, Emily Morency, Demetrius Oliver, Taylor Pace, Jasper Pike, Grant Robinson, Morgan Sanderson, Carl Timpson, Adrian Williams, Brandon White.
The dozens of pioneer undergraduate contributors to the work of Imagining the Internet: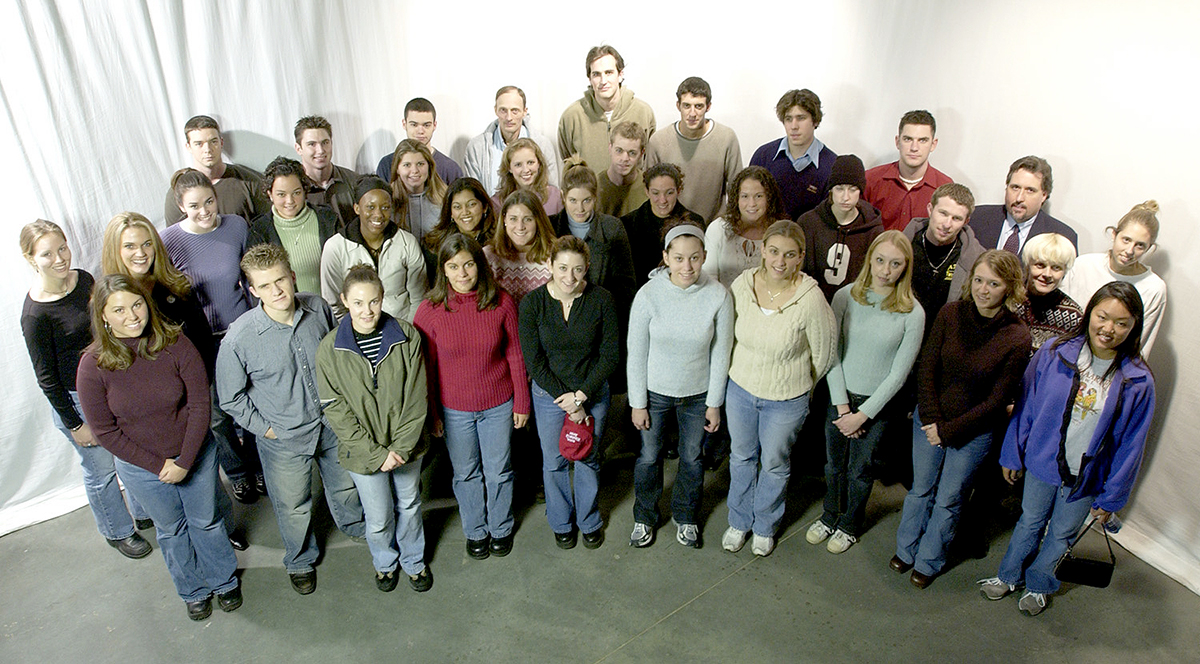 The 65 Elon University undergraduate student researchers participating in the initial logging of the 1990-1995 predictive data on this site as part of a Media History course in 2003 include:
| | | | | |
| --- | --- | --- | --- | --- |
| Crystal Allen | Cara Catalfumo | Mathea Gulbranson | Casey Marge | Barry Smoot |
| Patrick Allen | Jason Chick | Nichelle Harrison | Rory McAlister | Shawn Stevens |
| Justen Baskerville | Kaci Collier | Abbey Heiskell | Jennifer Meyer | Ben Stewart |
| Angela Beckett | Theresa Cooley | Shavanna Jagrup | Erin Moseley | Larry Stotler |
| Natalie Bizzell | William Culp | Kathleen Johnson | Diana Nolan | Amanda Strickland |
| John Bolger | Jay Dorne | David Kafoure | Shawna Pagano | Matt Sturmfelz |
| Jason Boone | Kristen Dube | Tiffany Kildale | Bradley Pinkerton | Kellen Taylor |
| Lindsay Bradshaw | Elizabeth Edwards | Kelly Kohlhagen | Kristin Ries | Elizabeth Tencer |
| Erin Bricker | Peter Falcone | Anne Komorowski | Melanie Sampson | Evelyn Uhlfelder |
| Marian Bruno | Peter Fedders | Kevin Krout | Nicholas Schmidt | Amanda Vellucci |
| Jay Burnham | Adam Garber | Ellie Lightburn | Carrie Scott | Abigail Wahl |
| Lawrence Butler | Barbara Goodrich | Brandi Little | Tim Severs | Meghan Walsh |
| Lauren Canizaro | Jennifer Guarino | Travis Lusk | Ian Smith | Laura Wright |
The Elon University undergraduate students who contributed creative input, new content, design work and/or some assistance with public relations strategies in the 2005-2006 update to the Imagining the Internet site included:
| | | |
| --- | --- | --- |
| Kara Anderson | Ben Malone | Amy Parker |
| Mary-Hayden Britton | Heather Mills | Christina Pompeo |
| Bridget Holmstrom | Sarah Moser | Sarah Putnam |
| Bettina Johnson | Scott Myrick | Laura Somerville |
| Alex Kreitman | Candra Nazzaro | Laura Weisiger |