Welcome to Elon!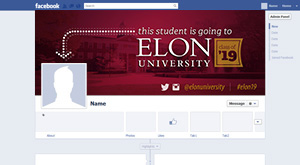 The entire Elon community welcomes the Class of 2019. We look forward to seeing you on campus in a few months and can't wait to learn more about you. In the meantime, we invite you to share your excitement with friends and family by updating your Facebook cover photo with our custom Elon Admissions image.
Keep the conversation going on Twitter and Instagram with the #Elon19 hashtag. We want to hear how you found out about your acceptance, the first thought that went through your head and the #1 reason you're excited about coming to Elon.
Click the image (or "View" link) below to view at original size. Click "Download" to download the image to your computer (or right click the image and select "Save Image As").